November 14, 2017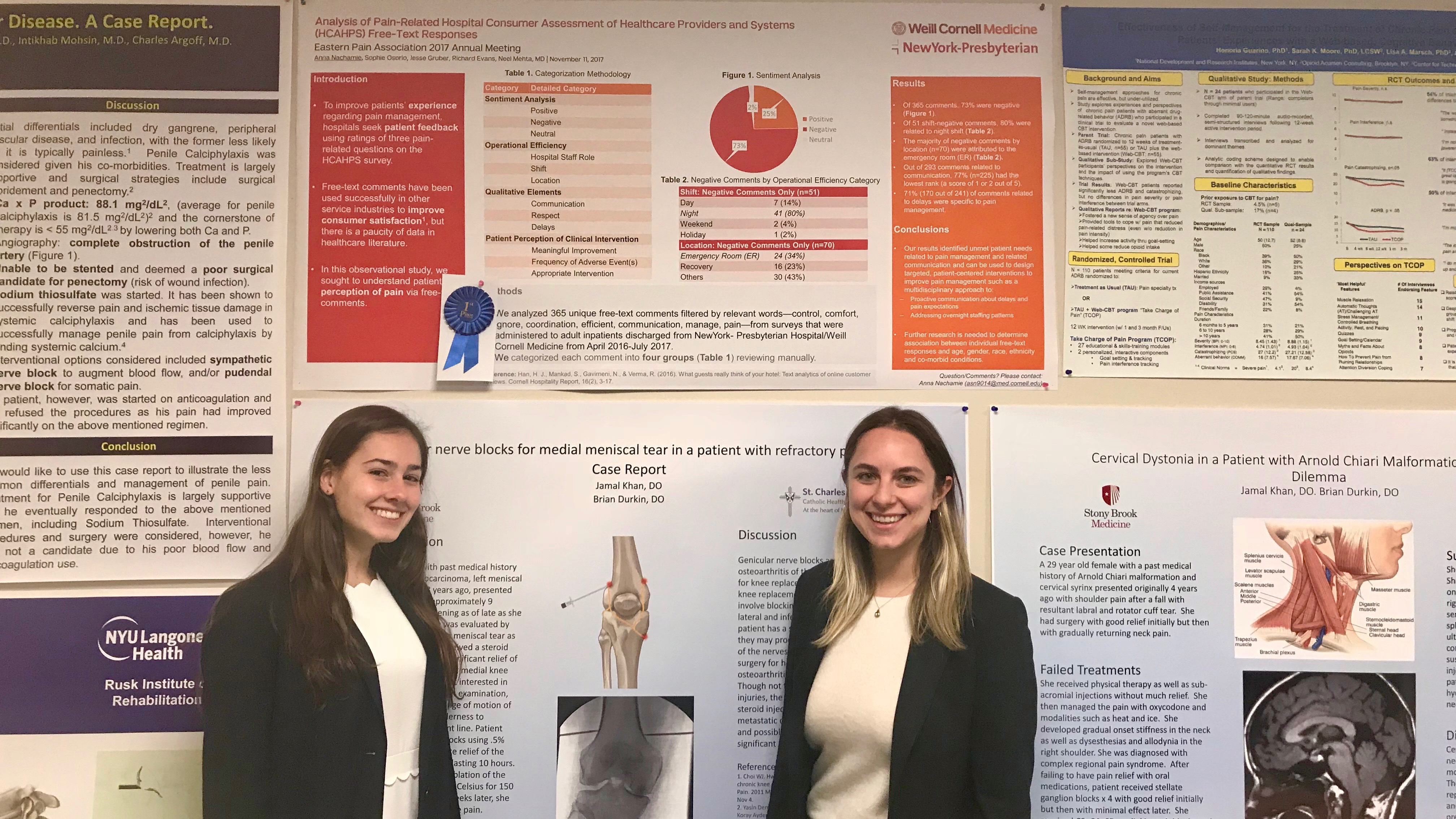 Research from the Center for Perioperative Outcomes (CPO) was honored at the Eastern Pain Association 2017 Annual Meeting (EPA), held November 11 in New York. An abstract titled "Analysis of Pain-Related Hospital Consumer Assessment of Healthcare Providers and Systems (HCAHPS) Free-Text Responses" was awarded first place in the poster competition. 
Anna Nachamie, operations administrator for the CPO, is the first author. Co-authors are Sophie Osorio, an intern with the CPO; research aide Jesse Gruber; Richard Evans, senior vice president and chief experience officer at NewYork-Presbyterian; and Dr. Neel Mehta, assistant professor and medical director of the Division of Pain Management at Weill Cornell Medicine. 
Osorio, who is currently a high school senior, developed her own categorization methodology to analyze more than 300 pain-related free-text comments from surveys administered to adult patients discharged from NewYork-Presbyterian Hospital/Weill Cornell Medical Center from April 2016 to July 2017.  
She was able to take ownership of the project and turn qualitative comments from the patients into a quantitative tool which could be used to improve healthcare practices. 
"I am incredibly grateful to have been part of this research team," said Osorio. "I have learned so much about research processes, how to conduct literature searches, the steps required to create and use a methodology, and how to formally present data."  
The study is part of an on-going initiative to improve the overall patient experience regarding pain management.
"Our research was a first pass at analyzing these comments in a structured way. We hope to move on to understand demographic and clinical variables that may impact certain responses," said Nachamie.  
Free-text comments have been used successfully in other service industries to improve consumer satisfaction, but there is a paucity of data in healthcare literature.
Formed in 1964, EPA is the oldest Pain Association on the East Coast, pre-dating The International Association of the Study of Pain (IASP) of which it is now a chapter. Dr. Mehta sits on the Executive Board.