November 21, 2013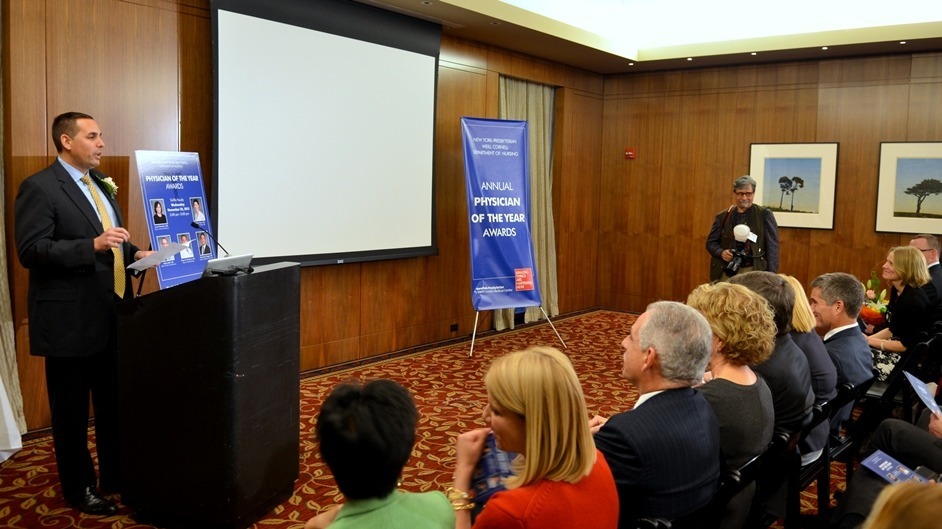 The NewYork-Presbyterian/Weill Cornell Medical Center Department of Nursing made the annual presentation of its Physician of the Year awards on Wednesday November 20, 2013. Peter M. Fleischut, MD, Assistant Professor of Anesthesiology, and Director of the Center for Perioperative Outcomes was among the five physicians receiving the award for 2013. At the award ceremony held at the Griffis Faculty Club, Dr. Fleischut took the opportunity to recognize the numerous collaborative and collegial relationships in the Department of Anesthesiology, the Center for Perioperative Outcomes and across NewYork-Presbyterian/Weill Cornell that have helped him succeed as a physician.
Each year, the Department of Nursing honors a small number of the nearly 5,000 physicians at NewYork-Presbyterian with the Physician of the Year Award, which is designed to honor physicians who work with a spirit of collegiality and actively contributes to the safe clinical care of patients at the all NYP campuses. The Award specifically "recognizes physicians, fellows, house staff and medical students who show competence and caring in the clinical setting and work together with the nurses to attain the highest standards of quality patient care." Dr. Fleischut was nominated for the award by Samanatha Karcher, RN, Clinical Manager for Perioperative Services.
Dr. Fleischut earned his MD in 2006 from Jefferson Medical College at Thomas Jefferson University in Philadelphia, and then joined the Weill Cornell Department of Anesthesiology for residency training. As a Resident, Dr. Fleischut was awarded the Van Poznak Research Scholarship, where he continued to develop a research interest in health policy. He has a particular interested in quality and patient safety and designing performance improvements projects to analyze trends in quality measures.
Dr. Fleischut is the Founding Director of the WCMC Center for Perioperative Outcomes where he is honing his interest in perioperative outcomes. In his remarks while accepting the award, Dr. Fleischut spoke about collaboration being the key ingredient to excellence in clinical care. He applauded the excellent teamwork in Perioperative Services and credited the nurses, technicians, and patient care associates for their commitment to patient care.
The Department of Anesthesiology extends warmest congratulations to Dr. Fleischut and his family on receiving this prestigious award.