July 27, 2015
In a recent entry at The Blog on Huffington Post, Aurelia Boyer, MBA, Chief Innovation Officer of NewYork-Presbyterian Hospital, and Peter M. Flesichut, M.D., Director of the CPO and Associate CIO of NYP, described the multitude of ways in which technological innovation has changed the practice of healthcare at NYP. The article gave Dr. Fleischut and Ms. Boyer the opportunity to discuss how technology has helped improve the patient experience at NYP, and how technology is being used to refine practices and procedures across the institution.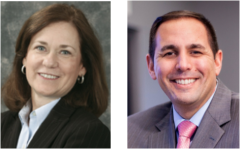 Ms. Boyer and Dr. Fleischut focused on numerous initiatives at NewYork-Presbyterian. Foremost was the creation, in 2014, of the Innovation Center, to coordinate technology and innovation initiatives. Since the creation of the Innovation Center, NYP has integrated mobile devices into patient care, including autotexting real-time notifications to patients' families, the use of tablets to allow patients to access their health information, and the NYP Patient Whiteboard project, designed to facilitate communication between healthcare teams and patients' families. They also discussed various initiatives to increase collaboration between NewYork-Presbyterian and the local technology sector, including the InnovateNYP: Open Challenge competition to provide innovative technology solutions for patient care and communication.
You can read the entire Huffington Post piece by Ms. Boyer and Dr. Fleischut HERE.  
SEE ALSO